Love Is In The Air Blog Hop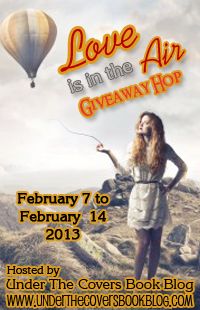 Mr.C and I don't really celebrate Valentine's Day. Early in our relationship money was tight and honestly we didn't see the point in only celebrating our one day of the year. 🙂 But a few years ago when we lived in Singapore I entered a contest in a magazine and won a dinner for two and night at one of Singapore's premier hotels. Kinda seemed silly to not go. 😆
The hotel suite was huge with gorgeous views over the city skyline. The strawberries and champagne on arrival didn't hurt either. 🙂 Then we headed down to the restaurant to indulged in a nine course meal made especially for us by the head chef. Spoiled or what! And let's not forget about the scrumptious breakfast in bed the next morning. For never having celebrated Valentine's Day before I think we did pretty good. We did even better when neither of us had to pay the bill. 😉
For someone who doesn't go in for all the hoopla of the day is seems a little strange that I would write a story around it but then again I added a little twist.
She's done with the dating scene. He wants a lifetime of Valentine's Dates.

Brent had his chance to be Valentine's date and he blew it. But loving his best friend's little sister from afar isn't working. When she calls him in tears Brent's only choice is to come to her rescue. And now that he's got her safe in his arms he's going to make sure she stays there.

It doesn't matter how much Vee tries to convince herself her feelings for Brent were destroyed years ago. He is still the first person she calls when she needs help. Breaking down in his arms wasn't part of the plan. Neither was kissing him.

Forced to face their past, Brent and Vee must forgive each other – and themselves – if there's any hope for the love still burning between them.
Contest details-
Contest runs until February 14th.
So tell me, what's the most memorable Valentine's date you've ever been on? And if you can't think of one tell me what would a date memorable? I'll pick one commenter to receive a download of Valentine's Dates.
Love is in the Air Blog Hop 2013
17 Responses to Love Is In The Air Blog Hop
Rhian's Newsletter Signup
Subscribe to Blog via Email