Merry Menage Giveaway Hop!
As you can see things are a little empty around here. I won't go into the details (because I'll probably cry all over again) but I've been force to rebuild my website. So all you have to do to be in the running for my prize – winners choice of backlist title – is sign up for my newsletter, my blog, or like my Facebook page. Simple. 🙂 You can find the sign up for my newsletter and blog in the right hand sidebar and my Facebook page HERE!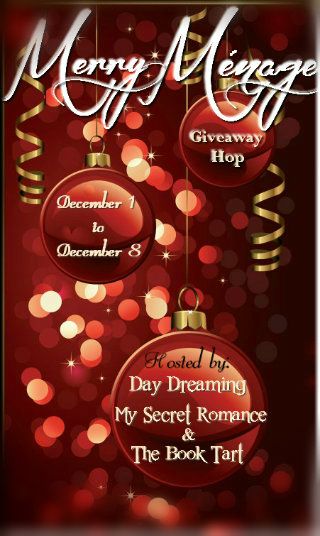 Come join our Merry Menage Giveaway Hop hosted by Day Dreaming, My Secret Romance and The Book Tart!
Need a new bedtime story to light your fire? Looking for something with a little heat to warm you during the cold holiday season? Feel like decking the halls naughty style? Well then, come join us as we stand under the mistletoe for this wickedly sexy giveaway hop! The more the merrier! Have no worries, we'll help you trim your trees, deck yours halls, and spark that fire!
This is a blog hop!
20 Responses to Merry Menage Giveaway Hop!
Rhian's Newsletter Signup
Subscribe to Blog via Email